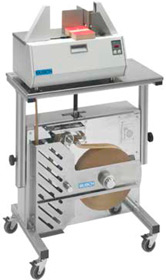 A Busch table top bander:
can be used anywhere in the company
is manually-fed and very versatile in the range of work it can handle
can be operated by an automatic sensor, manually or by means of a foot pedal
Models available
The TB26 is a new model with machine output +20% and the banding width enlarged.
TB 26 (20-30)
TB 26 (40-50)
TB 24 (20-30)
TB 24 (40-50)
TB 39 (30)
TB 39 (50)
Banding materials
Banding material is either kraft paper tape (brown or white) or polypropylene (PP) foil. Two sizes of machine are available with a simple internal adjustment of tape width:
for 20 and 30mm tape width
for 40 and 50mm tape width
Optional equipment
Large reel stand
For high volume production a large reel stand offers longer intervals between reel changes – kraft paper tape length is 800m – compared with 150m on the internal reel. The large reel stand can also be wheeled to wherever it is needed, then the wheels are locked for safety. The stand can be retro-fitted to a current model banding machine at any time.
Specifications
[table "1" not found /]
[table "2" not found /]