Busch are now the world's largest manufacturers of pile turners – in terms of numbers sold. Over 1,500 pile turners are installed world-wide and customer satisfaction is shown by the high number of repeat orders.
Why a Busch?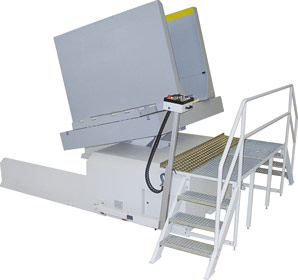 Our standard two year UK warranty for the pile turner is unmatched
Our pile turners are heavyweight, and do not need to be fixed to the floor
No foundation (or pit) is needed, and each pile turner can easily be re-sited by means of a pallet truck
Pressure control flaps are fitted as standard, and automatically stop the platforms closing on the pile, thus avoiding the potential problem of set-off
The operator console can be fitted on either side of the pile turner – according to space requirements – and it swivels to the front and back of the pile to allow the operator to access the sheets
The air volume, speed of the air jets and jogging intensity are all adjustable from the console
Busch pile turners can be linked to roller-track systems in the floor of the print room – especially where presses have continuous, non-stop feeders
Limited budget or space?
When you need a pile turner but have a limited budget or space, then the SE 90 and SE 125 are ideal.
turn paper and board piles (without airing or jogging)
suitable for smaller areas than other Busch pile turners
the SE 125 has an optional enlarged opening width for higher piles up to 1750mm and increased carrying power
For more detailed information see the SE 90 or SE 125 specifications or contact us.