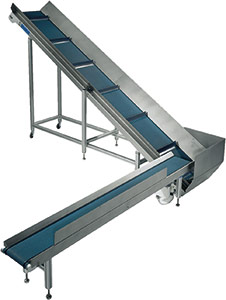 Waste is conveyed from low-level into a waste container – the height of container governing the model of waste conveyor used
Each conveyor is driven by a heavy-duty 3-phase motor which is virtually silent in operation. Where space is at a premium, two conveyors can be linked at right angles to remove the waste – either to the left or to the right – allowing the waste container to stand adjacent to the machine in question.
Busch waste conveyors are supplied to Heidelberg and Muller Martini for use with their respective models of saddle stitcher.
A detailed footprint drawing of each model can be sent on request.
Models
KF, HF and SF models
Bespoke models can be produced on request with: modified conveying heights or widths, lengthened collecting trays, cross-conveying elements